Note
Click here to download the full example code
1.6.12.17. Plotting and manipulating FFTs for filtering¶
Plot the power of the FFT of a signal and inverse FFT back to reconstruct a signal.
This example demonstrate scipy.fftpack.fft(), scipy.fftpack.fftfreq() and scipy.fftpack.ifft(). It implements a basic filter that is very suboptimal, and should not be used.
import numpy as np
from scipy import fftpack
from matplotlib import pyplot as plt

Generate the signal¶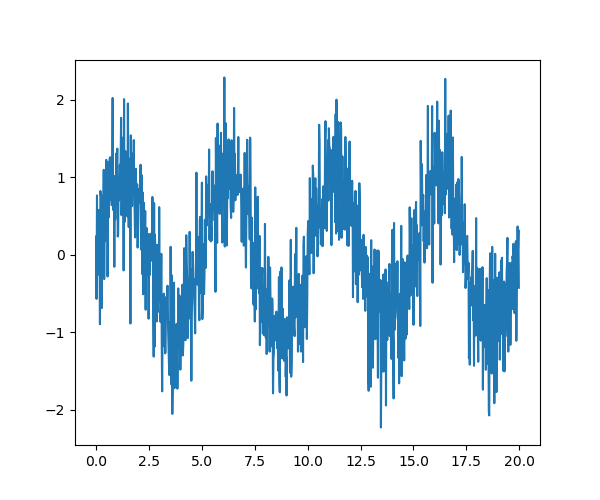 Compute and plot the power¶
# The FFT of the signal
sig_fft = fftpack.fft(sig)

# And the power (sig_fft is of complex dtype)
power = np.abs(sig_fft)**2

# The corresponding frequencies
sample_freq = fftpack.fftfreq(sig.size, d=time_step)

# Plot the FFT power
plt.figure(figsize=(6, 5))
plt.plot(sample_freq, power)
plt.xlabel('Frequency [Hz]')
plt.ylabel('plower')

# Find the peak frequency: we can focus on only the positive frequencies
pos_mask = np.where(sample_freq > 0)
freqs = sample_freq[pos_mask]
peak_freq = freqs[power[pos_mask].argmax()]

# Check that it does indeed correspond to the frequency that we generate
# the signal with
np.allclose(peak_freq, 1./period)

# An inner plot to show the peak frequency
axes = plt.axes([0.55, 0.3, 0.3, 0.5])
plt.title('Peak frequency')
plt.plot(freqs[:8], power[:8])
plt.setp(axes, yticks=[])

# scipy.signal.find_peaks_cwt can also be used for more advanced
# peak detection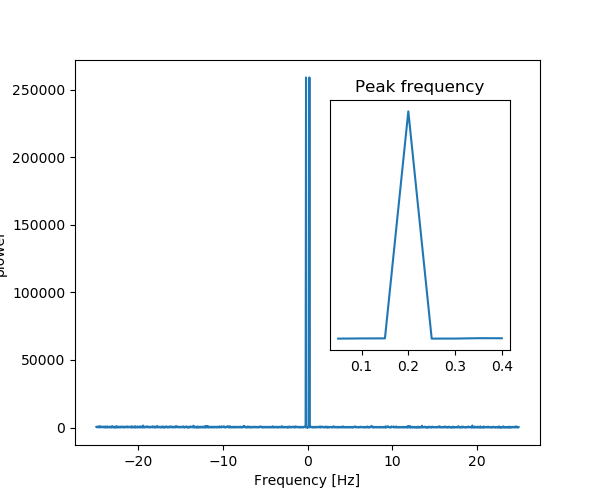 Remove all the high frequencies¶
We now remove all the high frequencies and transform back from frequencies to signal.
high_freq_fft = sig_fft.copy()
high_freq_fft[np.abs(sample_freq) > peak_freq] = 0
filtered_sig = fftpack.ifft(high_freq_fft)

plt.figure(figsize=(6, 5))
plt.plot(time_vec, sig, label='Original signal')
plt.plot(time_vec, filtered_sig, linewidth=3, label='Filtered signal')
plt.xlabel('Time [s]')
plt.ylabel('Amplitude')

plt.legend(loc='best')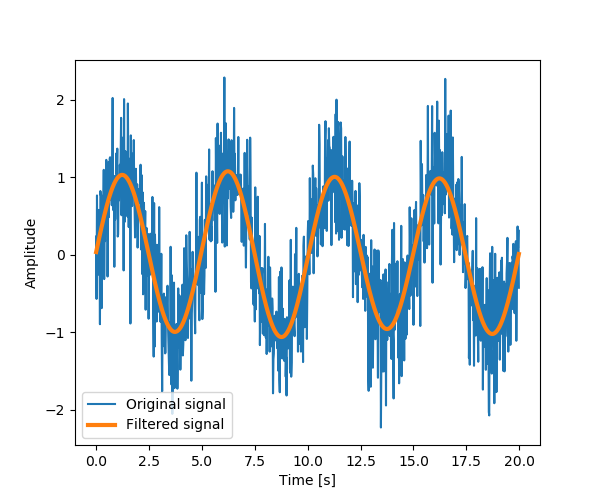 Note This is actually a bad way of creating a filter: such brutal cut-off in frequency space does not control distorsion on the signal.
Filters should be created using the scipy filter design code
Total running time of the script: ( 0 minutes 0.099 seconds)